Ask someone "what was your first car?" and you are likely to get a steady stream of memories.  And if left uninterrupted, the person will likely continue ("…and then I bought a…") and eventually work their way to present by tracing the lineage of automobiles that have graced their possession.
For me, a slight variation prompts a similar stream of reflection:
"What was your first Mac?"
It is rather bizarre how much influence Apple Computer, Inc. has had on my life since I left my parent's house for college. Although I have never worked for the company, Apple has played a larger role in my career than any of my previous nine employers. As a loyal consumer of their products, Mac computers have been a part of my daily activities for nearly two decades.
And so in the wake of Apple's recent announcement of the iPad, I offer up my personal ancestry of Apple computers…
---
16MHz / 4MB RAM / 40MB HD
(Acquired via Dating – Fall 1992)
This was my girlfriend's (now spouse) college computer; a 16-pound powerhouse featuring a black and white 9" monitor and running System 7. Since the campus' "inter-visitation policy" did not allow the opposite sex in dormitories during weekdays, I leveraged the portable all-in-one design whenever the college computer labs were full.
The only applications I remember running are Microsoft Word v5.1 and Mahjong Solitaire; if there were others installed, I don't think we ever used them. We held on to this treasure for more than 17 years—I intended to make it into a Macquarium at some point—but ultimately recycled it in 2010.
33MHz / 16MB RAM / 160MB HD
(Purchased New – Fall 1994)
I bought my "first official" Mac prior to my junior year in college. I recall thinking the Apple Audio player was super cool because I could manually enter CD track names that would be recognized on subsequent inserts of the disc.
While interning at a film and video post-production studio in the summer of 1995, I worked on PowerMac 8100 100MHz and got spoiled by its speed while learning After Effects, Illustrator, Photoshop and Infini-D. I was furious when I discovered my Performa couldn't run any of these applications because it lacked an FPU.
I sold it shortly after getting married in the Fall of 1996. I cannot remember how much I received, but my inclusion of a "Mario Teaches Typing" CD sealed the deal for the mother of three who purchased it.
---
180MHz / 64MB RAM / 2GB HD
(Work Issue – Summer 1997)
After a year of selling video cameras and home theatre systems, I accepted a job with a reseller of Avid and Media100 nonlinear editing systems. The office was outfitted with an eclectic mix of Apple machines as well as some "clones", such as the SuperMac J700 I was issued.
It was an interesting time to sell Mac hardware, with the emergence of clone manufacturers (Radius, Daystar, Power Computing, etc.) enabling smaller, regional Apple VARs to beef up margins by selling Apple alternatives. Graphic design firms, publishing houses and advertising agencies that had neglected or put off upgrading Macs, were suddenly rewarded with numerous, lesser expensive options that in many cases were faster than Apple's current offering.
Steve Jobs eventually killed the clone manufacturers by leveraging a clause in the licensing agreement that specified it only applied to System 7. Jobs renamed the next OS release 'Mac OS 8′ (instead of the intended 'Mac OS 7.7′) and none of the clone makers agreed to the more costly licensing terms that would have allowed them to offer it.
---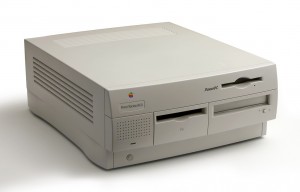 266MHz / 192MB RAM / 6GB HD
(Purchased New – Spring 1998)
The Internet was in full swing and I was trying to learn HTML on the side.  After being without a computer for almost two years, I persuaded my wife to take out a home equity loan and purchase this machine at a discount through my employer.
I installed a Pinnacle DC30+ video card coupled with a 36GB UW SCSI RAID and ran Adobe Premiere v4.2 to achieve "real-time" video editing. For about $3,500 I had assembled a machine more powerful and capable than the $50,000 Quadra-based Avid offline system I used during my internship less than three years earlier. That is when I realized if you aren't making money with your Mac, there is little justification to buy new, top-of-the line Apple; the depreciation is downright devastating and depressing. Accordingly, I have not purchased a brand-new-in-the-box Mac since.
500MHz / 1GB RAM / 3 x 27GB HD
(
Stolen
Purchased Used – July 2000)
My employer at the time was a mail-order catalog reseller of graphic design hardware and software (think really small version of CDW).  Six months after being acquired by an aspiring .com (think of a flawed version Newegg), my boss promoted me and promised a raise, then resigned the following week without ever filing paperwork with HR.
Three months later, with the company on the verge of bankruptcy, I was laid off.  On my last day, my interim supervisor offered an alternate form of compensation to ease the pain: a custom configured, open-box PowerMac G4. Valued at over $4,000, I bought it for $500.  For an additional $100, I picked up full versions of every Adobe and Macromedia application you could imagine. Considering my stock options were worthless, I felt it was a fair deal.
---
500MHz / 500MB RAM / 30GB HD
(Work Issue – October 2000)
I accepted a position as General Manager for a small, custom metal fabrication shop that ran Macs throughout its office.  Over the course of three years, I sucked every ounce of productivity possible from this iMac.  In addition to MYOB and Microsoft Office apps, I used Infini-D (now known as Carrara) to develop 3D models, and leveraged Photoshop, Illustrator and After Effects to create marketing materials and multimedia content. Amazing when you consider it all took place on a 15″ 1024 x 768 CRT.
---
Dual 1GHz / 1GB RAM / 80GB + 27GB HD
(Purchased Refurb – July 2002)
I had been doing lots of photo montage videos for weddings on the side and had an idea for a new business.  To generate some "seed money", I started "flipping" Apple G3 PowerBooks via ebay.  It involved buying a used laptop, stripping it down and selling the parts, then rebuilding it with upgraded components (bigger hard drive, more RAM, DVD combo drive, etc.).  I moved 40+ laptops over the course of 14 months and used the profits to buy an assortment of new equipment, including this faster G4.
The business idea never developed beyond a six-page word document.
After two years of rock-solid service, this machine greeted me one day with a kernel panic that it never recovered from.  I tried replacing the motherboard, but ultimately determined one of the CPUs was bad.  I sold it "AS IS" via ebay to a gentlemen in New Hampshire.  After the box got left outside in the rain on the guy's front step (without approval or signature), UPS cut him a check for the replacement value but never collected the Mac. He sent me an email two months later boasting about how he got it repaired and pocketed an extra $500. I considered replying with a virus attachment, but ultimately chickened out.
---
500MHz Dual USB / 512MB / 10GB HD
(Purchased Used – November 2002)
After two years as General Manager for the custom fabrication shop, I realized a number of deficiencies in my business acumen.  So I decided to go back to school and get my MBA, which prompted the purchase of this white laptop. Although I could claim temporary ownership of more than 40 different G3 Pismo and Lombard units in the previous year, I considered this my first "official" laptop.  It also pushed me into the "multiple Mac household" category.
Out of pure habit, I loaded this thing with all sorts of applications, but rarely used anything other than Mail, iLife and the Microsoft Office Suite.  I sold it two and a half years later for $100 less than I bought it; God bless ebay.
---
1.6GHz / 2GB RAM / 2 x 80GB
(Purchased Refurb – August 2004)
I picked up this machine as a refurb after the death of my G4 Dual 1GHz (see above). While it was technically an upgrade in speed, going from a dual processor to a single felt like moving from a house to a condominium. Even so, I never really tapped the potential of this machine—I had abandoned my idea for a multimedia archiving business and the birth of our first and second children took away most of my free time.
Had I known Apple had no plans to change the case design for the next six years, I might have held onto it longer. But considering Internet, email, iLife and MS Office accounted for 95% of its use, I decided to downsize to something quieter with a smaller desktop footprint.
---
1.25GHz / 1GB RAM / 80GB HD
(Purchased Used – January 2006)
In an effort to enable viewing of our home video archives and digital photo collection, I purchased this Mac mini for the foundation of a Mac OS based HTPC.  While I succeeded in getting everything set up, we never used the system as I had envisioned. In addition, Front Row was in its infancy and I never fell in love with any of the alternative options.
After a year of sporadic use, I decided to sell it on ebay. About the same time, we stumbled onto a house we loved and decided to move across town. So I zeroed out the hard drive and packed it up with the intention of listing it once our move was completed. Four days after closing, my wife went into the hospital with pregnancy complications and subsequently was confined to strict bedrest. I pulled the mini out of the box and set it up in the bedroom.  For the next five months, it helped keep her connected to the outside world.
Shortly after the birth of our third child, I sold it for $50 less than what I originally paid two years earlier; again, thank the Lord for ebay!
---
1.83GHz / 1GB RAM / 160GB HD
(Purchased Refurb – September 2007)
The Mac mini form factor is a 'tweener', much like a 6′-6″ NBA power forward; in the right conditions, it can be very productive, but all to often you find yourself reminded of what it lacks. As a result, it developed a "love/hate" consumer following.
Put me in the 'love' category.
It is simply amazing how much punch is packed into the little case. Granted, there are shortcomings (no dual monitor support, limited RAM expansion, no secondary hard drive, etc.), but these are shared by the iMac form factor as well. Overall the Mac mini is a powerful option for mid-level Mac users and I had no complaints with the unit I ran for 2+ years. The decision to pursue 2MinuteGenius.com and subsequent reading of a LifeHacker article (see below) prompted its sale.
---
2.2GHz / 2GB RAM / 160GB HD
(Purchased Used – Fall 2009)
For my day gig, I am fortunate to home office when not traveling. My setup in the basement is pretty posh—bare concrete floor and cinder-block walls with a single electrical outlet and one CFL bulb in the ceiling. My handcrafted, custom made desk features a solid wood frame (aka 2x4s) with a large work surface and shelving options (hollow-core, flat-panel doors from our last house). I am periodically reminded of my wife's love of cats since the kitty litter box is conveniently located next to work area. There is no heat beyond what the furnace leaks out of a single vent 25 feet away and I recently learned that radon levels are above EPA acceptable standards.
Given the considerable amount of time I spend downstairs (completely understandable given the luxurious conditions), my wife and kids had limited access to email and Internet. Recognizing the sacrifices and third-world conditions I was forcing them to endure prompted us to purchase this laptop off of—where else?—ebay. Now they are able to conduct computer activities whenever and wherever in the house they so desire.
---
3.1GHz / 8GB RAM / 2TB HD
(Custom Built – Fall 2009)
Assuming I would need to dust off my motion graphics and video production skills for the development of 2MinuteGenius.com, I convinced myself of the need for a faster, more robust Mac.
Shortly thereafter I encountered Adam Pash's instructions for building a Snow Leopard capable "Hackintosh"; essentially a custom PC running a non-Apple authorized version of Mac OS X.  It is not for the faint of heart, as you are basically putting yourself on an island and building a one-of-a-kind Mac system for your specific needs.  There are serious upgrade limitations, no dedicated technical support from Apple and resale is almost impossible. The only upside is a really fast Mac for one-third the cost.
After a month of casually following reader comments and some additional research, I made the leap the dark side and ordered up my components.  At the time, a comparably equipped Apple Mac Pro sold for around $3,500 via the AppleStore. I was able to get everything needed via Newegg.com for $1,100.
The build and subsequent installation of software went fairly smooth and I have been pleased with the performance overall. Unfortunately, I have yet to push the machine to its limits from a processing standpoint, but hopefully that will change in the near future.